If you thought that the past two games looked like the D.C. United team that battled its way into the playoffs in September and October last year, you would, of course, be right. But with the return Dwayne De Rosario, hopefully the team can conjure up a more potent offensive threat, one that saw United score the second most goals in the Eastern Conference last season. The return of DeRo will also allow Chris Pontius and Nick DeLeon to have a little more space as they attack, making the entire team more dangerous. One goal will not be enough to beat the New York Red Bulls this Saturday, but with the way the team's defense can play, two may suffice.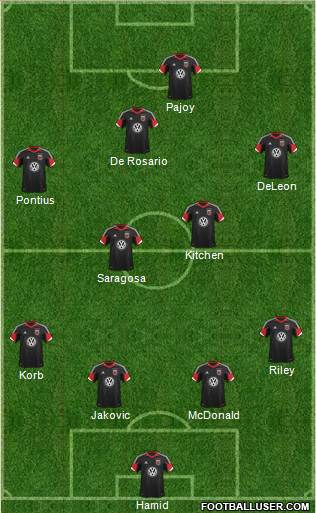 The only tactical change in this lineup from the team that Ben Olsen started against Real Salt Lake is De Rosario in for Marcos Sanchez; that also means that I have James Riley starting again over Daniel Woolard. After an own goal in this first appearance, Riley put in a good performance and was a part of the back six disrupting and breaking down Real Salt Lake's diamond midfield. Another key member of that back six, John Thorrington, is out for 8-12 weeks with the same injured that sidelined DeRo last year. With that injury, Marcelo Saragosa steps back into the starting lineup alongside Perry Kitchen. If that group can recreate the performance they gave last week, New York will have a hard time scoring even with all of their weapons.
With these starters, the bench will be Joe Willis, Robbie Russell, Daniel Woolard, Kyle Porter, Marcos Sanchez, Carlos Ruiz, and Rafael Gladiador. I hope to see Ruiz in this game around the 75th minute, because Olsen is going to have to seriously consider limiting DeRo's minutes throughout the year so that he is fresh when the playoffs come. I'm not saying that he needs to be pulled at Branko-time every game, but I also don't want to see him playing 90 minutes for 10 games in a row.
What lineup do you think we will see this Saturday afternoon?