Now that the game towards which D.C. United and its fans have been building has been played (and won), it seems a bit of a letdown to return to the Major League Soccer regular season. But now we are here, and there is no longer a need to keep players sharp for the Open Cup final. While I don't necessarily expect Ben Olsen to bench all of his veteran players, I would expect to see more of the younger players as Olsen tries to see what he has for next season and what he needs to replace.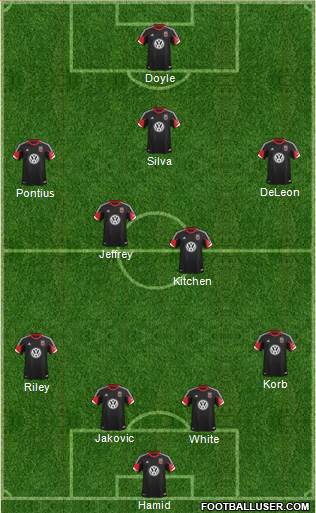 While the 4-4-2 that United used against Real Salt Lake worked to perfection in that game, I do not know if it really fits the young pieces that the team currently has. It would leave out one of Luis Silva, Conor Doyle, or Jared Jeffrey, and those three players are at the top of the list of players who need more time to be prepared for next season. Starting them means that Dwayne De Rosario, John Thorrington, and LEWIS NEAL will be sent to the bench, which is likely from where they will ply their trade next year if they remain on the team. But, after the Open Cup final, I cannot tell you which of these three will have the most impact as a key substitute next year.
I, like most of you, am still baffled by Dejan Jakovic. Throughout the past few weeks, most of us were calling for him to be benched, traded, or even waived. And then, combined with Ethan White, they put in an excellent performance against one of the best teams in the league. I would think that Olsen would want to give the two players who he thinks will be his starting center backs next season the balance of this season to start developing a rapport; at this point, that looks like Jakovic and White. But if Olsen already knows that Jakovic won't be around next season, then Conor Shanosky needs to start the rest of this season.
With this formation, the subs might be Joe Willis, Dennis Iapichino, Conor Shanosky, Kyle Porter, Collin Martin, LEWIS NEAL, and Michael Seaton, with John Thorrington and Dwayne De Rosario getting the night off. How do you want Ben Olsen to use his roster throughout the balance of the season?