D.C. United is already in Costa Rica, and they take on LD Alajuelense tomorrow night in the first leg of the quaterfinals of the Concacaf Champions League. Ben Olsen has not been coy about what his starting lineup will be, featuring the mostly same starters all throughout the MLS preseason, and all in buildup to this game. With Montreal Impact drawing Pachuca 2-2 last night, can United match, or even surpass, that performance?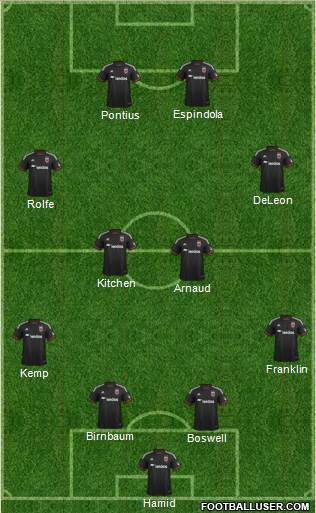 The main question facing this lineup is whether Davy Arnaud will maintain his spot in the starting lineup, or whether Markus Halsti will slide in next to Perry Kitchen. Ben Olsen preferred Halsti at the beginning of the preseason, but Arnaud has been playing their recently with Halsti first at center back and then picking up a knock. Neither choice would surprise me, but I think that he will choose Arnaud.
Steve Birnbaum has only gotten one game on the back line so far this preseason, and it was the debacle against FC Dallas. Regardless, he gets the start alongside Bobby Boswell, with Sean Franklin and Taylor Kemp filling out the back line ahead of Bill Hamid. Chris Rolfe and Nick DeLeon flank Arnaud and Kitchen, with Fabian Espindola and Chris Pontius leading the line. Jairo Arrieta will definitely play, but I see him starting from the bench in this one.
Alongside Arrieta on the bench will be Andrew Dykstra, Kofi Opare, Markus Halsti, Collin Martin, Conor Doyle, and Michael Farfan. Halsti could definitely be the second substitute off of the bench, with late-game specialists Conor Doyle coming in to hopefully kill the game off. Who do you see Ben Olsen starting against Alajuelense?