D.C. United starts its participation in the Concacaf Champions League on Wednesday, when they take on Waterhouse FC at Robert F. Kennedy Memorial Stadium. With United the the top pack of MLS teams chasing the Supporters' Shield, Ben Olsen has made it clear that the playoffs are his primary objective; this means that this game will sternly test D.C. United's depth, at a time where that depth is already stretched.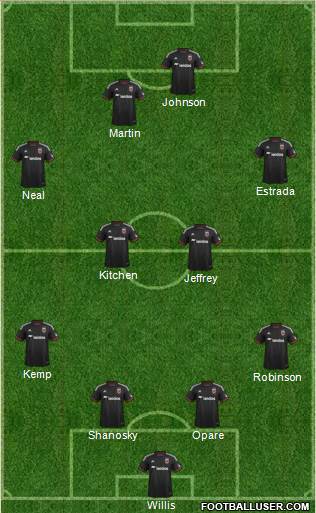 While Ben Olsen needs to rest a number of players, there is no way that he can rest all of his starters. We know that the MLS-suspended Eddie Johnson will start, and I think that Taylor Kemp will be one of two starters that play both Sunday and Wednesday. Both are young enough to take the toll of a number of games in a short amount of time, and Kemp has just come off of the bench into a starting role; Lewis Neal could take his place, but there needs to be some continuity and some players who have played games recently. Finally, I think that Perry Kitchen will captain D.C. United against the Jamaican team, which could be the first of many times that he wears the armband for the team.
For the rest of the starters, Kofi Opare, David Estrada, Jared Jeffrey, Lewis Neal, and Joe Willis are all fairly easy picks. Jalen Robinson was on the bench for Arizona United SC this past weekend, but did not play; this leads me to think that a midweek flight to D.C. is on his plate. The Collin Martin spot is the one that gave me the most pause, just because Ben Olsen could move Estrada up top and then have either Alex Caskey or Kyle Porter play there instead.
With this lineup, the subs would be Bill Hamid, Steve Birnbaum, Sean Franklin, Kyle Porter, Alex Caskey, Luis Silva, and Fabian Espindola. Obviously, there are any number of ways that Ben Olsen could go; what would you do?