After the thrashing that D.C. United received last Thursday, they come back to the District to take on LD Alajuelense in the second leg of the Concacaf Champions League quarterfinals. To move on, United will have to win by at least three goals while either blanking Alajuelense or allowing them only one goal. To say that United has a difficult task ahead is a massive understatement.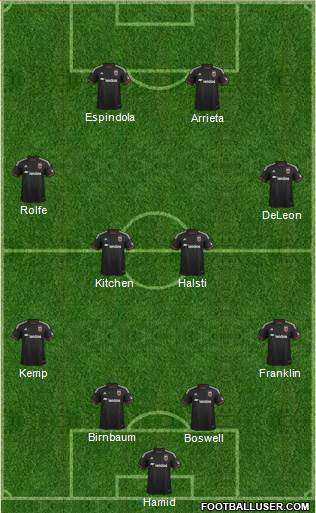 The lineup surprise of the last leg was the fact that Bill Hamid could not even make the bench, meaning that Andrew Dykstra started and Travis Worra was the backup. Dykstra had what was likely his worst game as a professional soccer player, being directly responsible for multiple goals (though his defense did him no favors). We were told that Hamid's absence from the last preseason game was not a sign of anything to come, but obviously he is still dealing with that shoulder injury that prevented him from going to USMNT camp. Obviously if he his healthy, Hamid will start, but if Dykstra gets the call I think that he will prove that he is an actually solid MLS backup.
Just as worrisome as Dykstra's performance was the play of the two center backs, Steve Birnbaum and Bobby Boswell. Hopefully they can find the partnership that they had last season in this game, to at least make progress going into the MLS season. They will be flanked by Taylor Kemp and Sean Franklin.
The other main lineup question, besides Dykstra, is whether or not Markus Halsti will be healthy enough to play. If so, I think he could supplant Davy Arnaud, who was basically ineffective the entire game, in central midfield; Perry Kitchen, of course will start. I don't think that Miguel Aguilar will push either of Nick DeLeon or Chris Rolfe to the bench for this game, but he showed that he is ready to contribute at the MLS level right away.
Fabian Espindola will start up top, but it is a tossup as to which of Chris Pontius or Jairo Arrieta will start beside him. Pontius got an assist on Espindola's goal and has better aerial ability, but Arrieta looked the more dangerous threat during his time on the field. Both will see extensive minutes in this game, but I think that Arrieta ends up with the start.
With this lineup, the bench will be Andrew Dykstra, Kofi Opare, Chris Korb, Chris Pontius, Miguel Aguilar, Michael Farfan, and Davy Arnaud. We should learn more about the injury situations tomorrow, but based on what we do know so far, who do you want to see start?