D.C. United continues their streak of mid-week games, welcoming the Chicago Fire to town. They will have to meet them without the services of Chris Rolfe, who looks to be suspended for this game after kicking out on Vincent Noguiera. With the continued absences of Fabian Espindola and Luis Silva, this means that the creativity of the team will be stretched.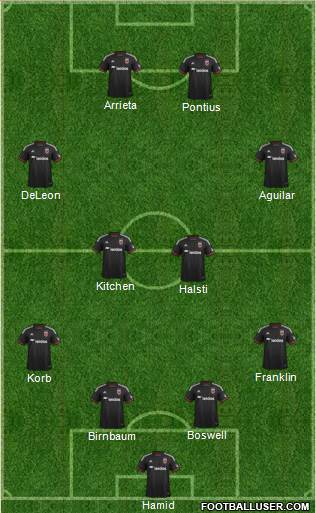 The strike partnership of Chris Rolfe and Conor Doyle will be relegated to the bench, via suspension and rotation respectively. Even though Fabian Espindola is supposedly ready, I think that he will start on the bench, giving us the strike partnership of Jairo Arrieta and Chris Pontius. They will be flanked in the attack by Miguel Aguilar and Nick DeLeon.
If Markus Halsti starts against the Chicago Fire, as I have predicted, I think the central midfield spot next to Perry Kitchen could be described better as a platoon and not as a rotation. I think that is an appropriate use of Halsti and Davy Arnaud, both of whom need time on the field, and keeps both of them sharp if Perry Kitchen needs a rare night off.
Finally, on the back line the choice is again between Steve Birnbaum and Kofi Opare. Birnbaum got the start and had the bad giveaway to give Philadelphia their goal on Saturday, but after that looked solid and getting back towards the Birnbaum we know and love. I think he gets a second start as he eases back in, since he has a higher ceiling than Kofi Opare. For the fullbacks, it looks like the only healthy ones are Sean Franklin and Chris Korb, so they will start.
With this lineup, the subs would be Andrew Dykstra, Kofi Opare, Luke Mishu, Davy Arnaud, Facundo Coria, Fabian Espindola, and Conor Doyle. What do you want to see Ben Olsen do today?