D.C. United has an onslaught of soccer these next two weeks, playing Sunday-Wednesday-Saturday-Tuesday-Friday, and the next game is tomorrow night against the Chicago Fire. To have players ready for Saturday, which is against Toronto FC, Ben Olsen is going to have to rotate his squad; it will all be a part of an intricate dance that he will have to play until United have a bye week on July 11 to hopefully recover back into playing condition.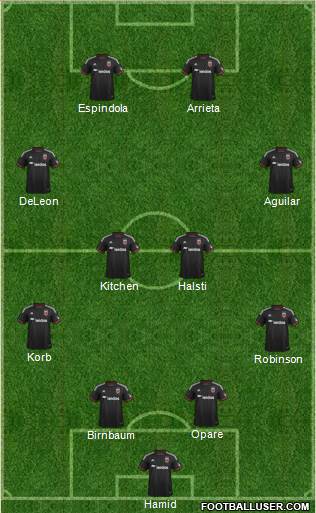 With Fabian Espindola just back from an injury, his fitness for this game should not be an issue; I think he starts this game alongside Jairo Arrieta, though Luis Silva is also a possibility. An early exit, however, it keep him fresh would also not surprise me, especially if United are winning in the 60th minute or so.
Markus Halsti would be getting a start here regardless, but with Davy Arnaud's suspension there is no question of it now. Miguel Aguilar played well on the weekend and will come in to give Chris Rolfe, who I expect to see of the bench, a break. Nick DeLeon starts in this game with Chris Pontius hopefully healthy enough to spell him on the weekend.
With Sean Franklin in a walking boot, Chris Korb and Taylor Kemp cannot simple play fullback forever; they need a break. Now would be the perfect time to get Jalen Robinson some MLS experience at right back; most of his professional experience so far has been at center back in USL. Bobby Boswell is another player who is going to need some breaks, and Kofi Opare has played well, so perhaps Ben Olsen will give the fans another taste of what could be the center back partnership next year.
With this lineup, the bench would be Andrew Dykstra, Bobby Boswell, Taylor Kemp, Chris Rolfe, Chris Pontius, Luis Silva, and Facundo Coria. Conor Doyle gets a break after going 120 minutes in the Open Cup and then 60 minutes on the weekend.
What do you want to see Ben Olsen do?