D.C. United, having beaten the Pittsburgh Riverhounds, will now face an MLS opponent in the US Open Cup. The travel to Chester, Pennsylvania, tomorrow night to take on their old friends, the Philadelphia Union. The Union have been relying on their first-choice starters in a brutal stretch of games, whereas Ben Olsen has been rotating his squad. Will we see the same players as those who took on Pittsburgh?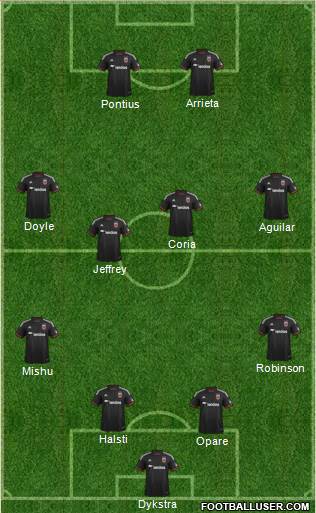 The main question is the identity of the midfielder who will be playing alongside Facundo Coria and ahead of Jared Jeffrey. In the match against the Pittsburgh Riverhounds, that role went to Luis Silva, who went 58 minutes against Toronto FC on Saturday. Chris Pontius is a prime candidate to come back for this game, though his return would mean a reversion to a more standard 442.
I think we can all agree the Conor Doyle, at this point, is better deployed as a left winger than as a forward, and I'm not sure that a pairing of him and Jairo Arrieta would be very effective. If Pontius can start, I think he will start up top next to Arrieta; if not, Olsen will have to get creative with moving people around.
With this lineup, the subs would be Bill Hamid, Bobby Boswell, Chris Rolfe, Fabian Espindola, Perry Kitchen, Luis Silva, and Chris Korb. What do you want to see Ben Olsen do tomorrow night?