D.C. United joins the US Open Cup this Wednesday night, taking on the Pittsburgh Riverhounds at Highmark Stadium. As is typical for United, and most MLS teams, the early rounds will be played be reserves, with Olsen doing his best to give his regulars as much rest as possible. This is also an opportunity for these less-used players to make their case for why they should be getting more time, unless there is a fiasco like last year against Rochester.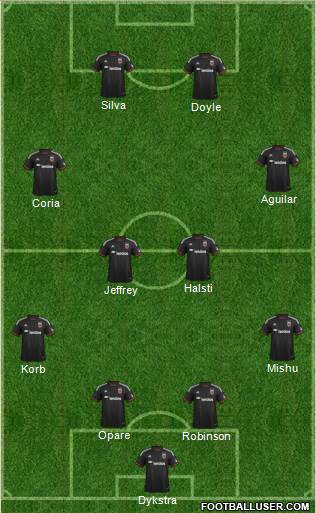 Somewhere around the field, at least one starter is going to have to play in this game. If Jalen Robinson is a center back, that leaves a gap at left back; if he plays at right back and Luke Mishu is at left back, that means that either Steve Birnbaum or Markus Halsti is at center back. Finally, Halsti at center back means that someone like Davy Arnaud or Perry Kitchen would have to start, and I definitely don't see that happening. Chris Korb has just come back from injury, and so he is more fresh than some of his compatriots; I think he gets the start at left back to fill out the defense.
The attack is actually fairly solid, with Facundo Coria and Miguel Aguilar both itching to show why they need to be getting more time. Luis Silva and Conor Doyle fill out the forward line, and that should be plenty of power to overwhelm the Riverhounds. The bench will probably be sparse, with Travis Worra, Steve Birnbaum, Taylor Kemp, Perry Kitchen, and Chris Pontius making the trip.
What do you want to see Ben Olsen do on Wednesday night?