D.C. United is back in Concacaf Champions League action tomorrow night, as they welcome Montego Bay United to RFK Stadium for their second game in the group stage. Montego Bay United lost to Arabe Unido 3-0 in their first CCL game, and United hopes to keep them at 0 points after this game. It is another time where Ben Olsen has to have basically two separate teams: one for the league and one for the Champions League, so who will we see start tomorrow night?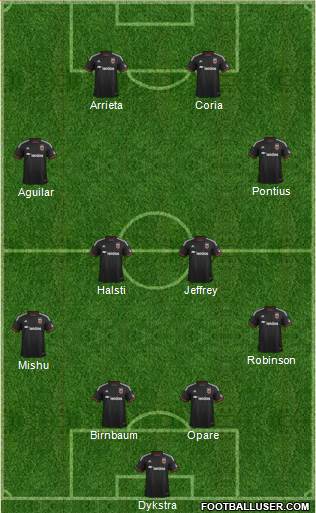 In essence, the same team that we saw play last Wednesday. Despite underwhelming in the league, Andrew Dykstra and Kofi Opare will both need to start against Montego Bay, with Steve Birnbaum coming back into the lineup as well. Jalen Robinson and Luke Mishu will man the fullback spots, and hopefully we can get another good game out of Robinson. Markus Halsti and Jared Jeffrey will form the central midfield, and hopefully Halsti will have gotten enough fitness so that he can play this game and then start on Sunday.
Chris Pontius and Miguel Aguilar will man the wings, and Jairo Arrieta and Facundo Coria will start up top. With the way that the first team has been struggling, a good performance here could help vault one of these players into the rotation for the main team. Since this game is at home, a full slate of subs should be available: Bill Hamid, Taylor Kemp, Bobby Boswell, Perry Kitchen, Chris Rolfe, Conor Doyle, and Michael Farfan.
What do you want to see Ben Olsen do on Tuesday night?