Last season, there could not have been a bigger difference between the New York Red Bulls, the Supporter's Shield Champions, and D.C. United, who obviously had one of the worst seasons in MLS history. This season, however, sees the two teams equal on points and with the Red Bulls winless so far. With D.C. United coming off their first win of the season, is there any reason to change the lineup?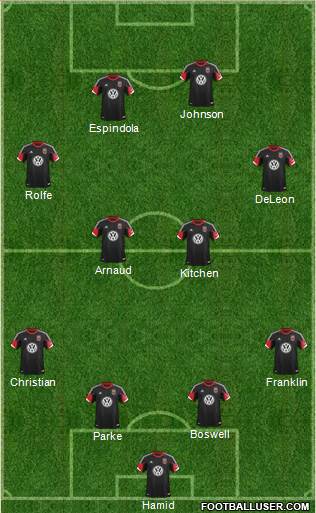 I was initially surprised by the fact that Davy Arnaud was playing more equally with Perry Kitchen, rather than playing from the Luis Silva position directly in front of Kitchen. However, as the game wore on their partnership became more and more effective, even if it wasn't the prettiest soccer. The "empty bucket" moniker is probably harsh for this partnership, since both Kitchen and Arnaud took their turns going forward and with Kitchen playing especially well. That pairing remains the same, as does the pairing of Bobby Boswell and Jeff Parke. A game against New York's offense should be a good indicator of whether or not they have actually made progress, or if New England is just that bad.
The one change should be obvious: Chris Rolfe is in the starting lineup over Lewis Neal. With that change, the substitutes should be Andrew Dykstra, Taylor Kemp, Alex Caskey, Conor Doyle, Jared Jeffrey, Nana Attakora, and Lewis Neal. Do you like the return of the empty bucket, especially in Luis Silva's absence? Any formation or personnel that you would rather have?