After a somewhat unimpressive September, at least in league play, D.C. United takes on the Houston Dynamo on Sunday in order to get back on the right track with the playoffs soon coming. The hard-charging New England Revolution still have an outside chance of catching D.C. United for the top spot in the Eastern Conference, and that cannot be allowed to happen.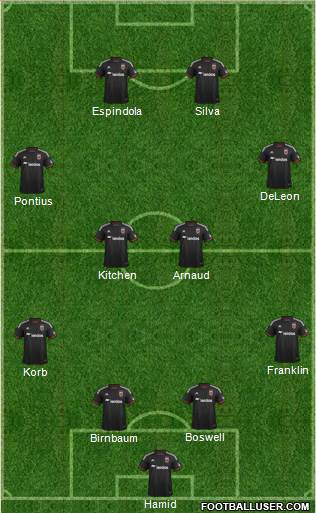 The midfield is almost of 2013 vintage, with Chris Pontius, Nick DeLeon, and Perry Kitchen, with Davy Arnaud playing the part of John Thorrington; however, they are obviously playing much better than that team. The main reason, of course, is that pairing of Arnaud and Kitchen: it has allowed Kitchen to blossom into a national team quality player, and Arnaud's switch into a bulldog-type of central midfielder is reminiscent of Ben Olsen's similar move, only that for Olsen it happened earlier in his career.
It also helps to have a newly solid defense behind them as well. In that defense, I expect Sean Franklin to move back to his right back spot and for Chris Korb to get the start on the left, ending the surprisingly good reign of Taylor Kemp. The center back pairing of Bobby Boswell and Steve Birnbaum will continue in the middle, as well the pairing of Fabian Espindola and Luis Silva up top.
With this lineup, the subs would be Joe Willis, Kofi Opare, Samuel Inkoom, Taylor Kemp, Eddie Johnson, David Estrada, and Jared Jeffrey. Let me know what you think of this relatively static lineup in the comments!