With all of the new additions to D.C. United's roster of the past two weeks, predicting which players will start is suddenly a puzzle. A welcome complication to that puzzle is the fact that three veteran players are close to returning to full fitness and are therefore back in consideration.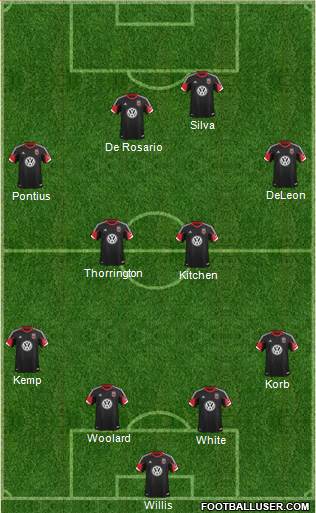 Now that Dejan Jakovic is rounding back into fitness, the question is now which of him, Ethan White, and Daniel Woolard will start in the two center defense spots. As we talked about on the upcoming episode of Filibuster, the pairing of White and Jakovic could easily be problematic. That, combined with the fact that White and Woolard have played will together, leads me to think that they will continue to do so here. I also have Taylor Kemp starting, mostly because I need James Riley on the bench.
The starters in the midfield and in the forward line are all interconnected. If Nick DeLeon and Dwayne De Rosario are healthy enough to play, they almost definitely will. If you combine that with the performance Carlos Ruiz had against Chivas, you could easily predict all of them to start and have a fairly generic D.C. United lineup. But a generic lineup, while it might serve United the best for this particular game, does not help United build for its future. I would continue to start Dwayne De Rosario and John Thorrington, as their sharpness gives United the best chance possible to win the US Open Cup, but I think Luis Silva might get a chance over Ruiz. This formation, of course, leaves United without a true striker, but their true strikers have not done much of anything this season.
With this lineup, the subs will be Andrew Dykstra, Dejan Jakovic, James Riley, Jared Jeffrey, Carlos Ruiz, Sainey Nyassi, and Lionard Pajoy. What do you want to see this weekend? Let me know if you think D.C. United's lineups should be based on winning the individual game in front of them, or for developing players.