Despite all of the wonder that the World Cup has been so far, and promises to be going forward, Major League Soccer must return and continue afresh. D.C. United is back in action this Saturday at RFK Stadium, where they welcome the Seattle Sounders in a battle of the top team in the Eastern Conference against the top team in the Western Conference. However, United will be without both Fabian Espindola and Davy Arnaud, leaving us to wonder to whom Ben Olsen will turn in their stead.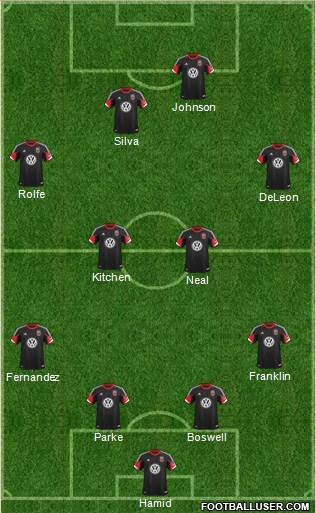 In case you don't remember, Fabian Espindola was injured within seconds of the opening kickoff in the game against the Montreal Impact by Felipe Martins, and Davy Arnaud is missing because of yellow card accumulation. Espindola's possible replacements include Conor Doyle, Luis Silva, Michael Seaton, and Collin Martin; out of these, I think that Luis Silva, with his hat-trick in D.C. United's most recent game, is the most likely to come off the bench and into the game. Arnaud's possible replacements include Jared Jeffrey and Lewis Neal, with Neal a more similar players and therefore the one that gets the call.
With this lineup, the substitutes bench will be ridden by Andrew Dykstra, Steve Birnbaum, Chris Korb, Conor Doyle, Alex Caskey, Collin Martin, and Jared Jeffrey. The makeup of this bench, however, leads me to a quick aside: why didn't D.C. United send any of these players (or ones that didn't make this bench) to Richmond this past weekend? Most of the young players on D.C. United's roster need game time, and Richmond's bench is sometimes short one or two players. After weeks of having only Joe Willis and Christiano Francois in Richmond, I hope that United can take more advantage of this relationship throughout the rest of the season.
Who would you start in the absence of Espindola and Arnaud?