Despite all of the World Cup excitement, the US Open Cup fourth round marches on. D.C. United plays the last non-MLS team to win the Cup, the Rocherster Rhinos, in Rochester tomorrow night. In 1999, the then Ragin' Rhinos beat four MLS teams to capture the Cup. The winner of this game will play the winner of the Richmond Kickers-New England Revolution match that is happening on Wednesday night. United is likely to follow the script it has in years past, playing primarily reserves against lower division teams and then fielding the regular starters should they make it to games against other MLS teams.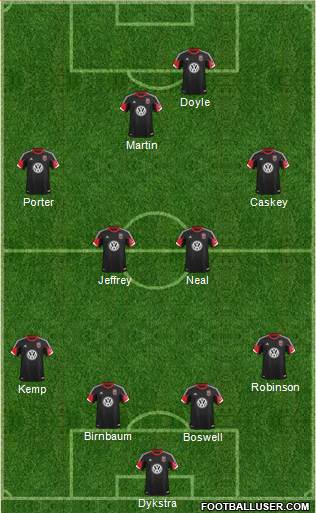 There is some fluidity in this roster, due to injuries: Collin Martin and Michael Seaton have both been recently listed on the injury sheet. Should both be healthly and available, I would think that Ben Olsen will try and find a way to get them both on the field. If Michael Seaton can go, I think that he will pair with Conor Doyle, moving Collin Martin back into midfield and putting Lewis Neal on the bench. Nana Attakora is another long-term injury who would make the field should he be healthy enough; if not, Bobby Boswell will become the only regular starter to make an appearance in this game.
Jalen Robinson is a somewhat surprising inclusion, at least in my mind, but this weekend he tweeted that he was back in Maryland and did not participate in Arizona United's most recent game. He has been playing some center back for Arizona, so perhaps his supposed conversion to a right back will begin in this game. With this lineup, the bench would be all of the starters you have come to know and love: Bill Hamid, Jeff Parke, Sean Franklin, Perry Kitchen, Chris Rolfe, Fabian Espindola, and Eddie Johnson.
Obviously it is difficult to get into Ben Olsen's head for a game like this, so give me your proposed lineups in the comments!