The schedule has been very kind to this point, but a little congestion has finally arrived and United must navigate the '3 games in 8 days' gauntlet that every team faces now and again. There are recent examples of this conundrum acted out for a few teams. Seattle and Columbus chose to rotate very little, with the results being exhausted teams getting blown off the pitch in the last games of the stretch. Conversely, Colorado chose to rotate a fair bit and lost at home to Chivas during a May snowstorm. So in essence, there is no right way.
I am old school in that I believe the surest way to success is to earn 3 points at home, and one on the road. It establishes an identity and tactical nous that can be relied upon during moments of doubt. It appeases the home fans that carry the team in instances of adversity and frustrates opponent's fans who want to see their home team play free flowing soccer that is pleasing to the eye. I harken back to statements made in previous seasons like the one from Peter Vermes, who said (paraphrasing) he was so pleased that United came to play, that so many teams come in and bunker and don't try to play the right way. Of course he would be pleased while watching United getting ripped apart by the home team to the high pitched delight of the home town fans. I have no desire to please opposing coaches and fans, quite the opposite. I prefer to see them miserable and frustrated while my team leaves them ultimately dissatisfied with a meager point for their efforts.
In light of this, what is the plan to get 7 points from Montreal and Houston at home, and New England on the road, while not destroying any players in the process? It is an extremely difficult, if not impossible, task. Nevertheless, a plan should be made and adhered to in order to give the team the best chance of meeting its' goals.
When breaking it down game by game, it seems like the Houston match is the most difficult home game for procuring three points. Since this is the case, it makes sense to start with the idea of having the best eleven on the field to start this match. Fortunately for United, who this eleven consists of isn't a mystery and there is very little debate, particularly with Eddie Johnson still in the fold.
Home against Houston, Wed. 5/21
This is the game from which all further rotations will be based around. In the other two matches, particularly Montreal, premeditated substitutions will be part of the plan in order to preserve players and also reach the points goal established for each match. In this particular match, there will be no such restrictions as it is the linchpin of the goal of attaining the point total during the week.
There is the added factor of Houston's position in the table compared to United, and how they are much more likely to be competing for one of the five playoff positions than Montreal. It is imperative to keep a team like Houston at arm's length, where Montreal is regarded, correctly or incorrectly, as a no hoper that will need a minor miracle to become a legitimate playoff contender.
The first match of this stretch is a home tilt against Eastern conference strugglers Montreal. Again, the idea is to garner three points with an eye toward the midweek game against Houston. Is it a risk to sit starters or keep some on a minutes restriction for the Montreal match in the hopes of bolstering the team's chances for a full three points midweek? You bet your ass. Many people will argue that looking ahead while hedging in the present is no way to operate, and I honestly understand that stance. There are no guarantees that Montreal will be the pushover they are expected to be, and so many things can happen in a match to throw the best laid plans straight out the window. With that being said, I believe it is worth the risk to play a less than ideal lineup against Montreal in order to give United the best possible chance to grab 3 points midweek against Houston.
Home against Montreal, Sat. 5/17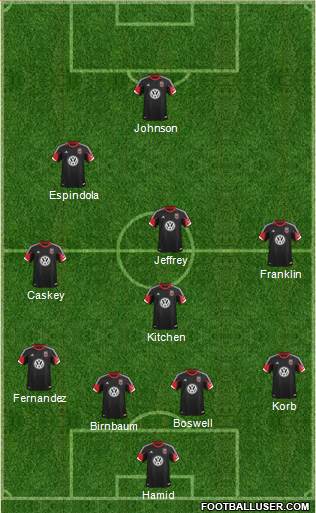 Caskey gets the start in place of Rolfe. Rolfe isn't a 90 minute player as it is, so to ask him to play two games within 5 days is too much. Caskey gets the nod ahead of Neal, as Neal is also not a 90 player and there other players I'd like to sub instead of Neal in order to have players rested for Wednesday.
Franklin will have a go instead of DeLeon. DeLeon is coming off injury and could use the extra time, and to burden him with a slew of minutes when first coming back would be foolhardy, especially considering he puts in a ton of running and tires at the end of matches anyway. I want Franklin because the team as it stands lacks some attacking options, and I believe Franklin causes more problems for the opposition than Neal (because of his pace) or Porter (because of his quality).
In the back, the debut of Birnbaum for Parke is at last upon us. Partnering with Boswell will ease his transition, allowing him to simply play his game.
The subs in this match will be predetermined. The first will be Espindola off at the half for Silva. The idea is to save Espindola for Wednesday, and he will told before the match that this is the case. Otherwise, the team will run the risk of wearing him out before the midweek match, and there is a very good chance he will do so because of his desire to play full out for every minute he is on the field, he tends not to hold anything in reserve. In addition to saving Espindola's legs, the sub will place Silva in his optimal position with the expectation and belief he will produce during his time on the field. Regardless of score, this sub is a must. If the team is behind, so be it, it should be understood that Silva is more than capable of producing the needed results (3 points) while he is in the game.
Now is where it gets tricky. There are still several players to remove in order to have them somewhat rested for the midweek match. The next sub, if all goes according to plan, will be Doyle for EJ at around the 60th minute. Hopefully, United will have a lead at this point, but even if they don't, there should be no hand wringing bringing in Doyle to bring it home. He is a professional and the expectation should always be that he can get the job done. It doesnt' hurt that he has scored his only goals as a professional against Montreal.
The players remaining in the match that will be starting on Wednesday are Franklin, Kitchen, Fernandez, Boswell, and Hamid, and only one sub remains. Kitchen will remain because he is young and has enough stamina for three players, it seems. Boswell will remain because, as a center back, less running is required than other positions. Hamid is a keeper and if a keeper can't play almost every day, I don't know what to say. That leaves Franklin and Fernandez. Franklin will be the one to come off, for Neal around the 75th minute, because that wing midfield slot is a more demanding one than the fullback position.
This leaves the final match, away and New England. While I stand by the idea of wanting one point on the road, sometimes it is wise to pick your battles. With 6 points in the team's back pocket, treating the away match as an almost throw away is not the worst idea. New England is red hot, and even with the best eleven rested and ready to go, getting any points out of this game is a tall task. This match presents an opportunity to play reserves with the expectation to give every ounce of energy they have to frustrate the Revs and pounce on opportunities to score. This is potentially a great team building exercise, particularly for the Open Cup games ahead. In order to be prepared for those matches, the 'second teamers' need some game time to gel and see what they need to work on before that tournament begins.
Away against New England, Sat. 5/24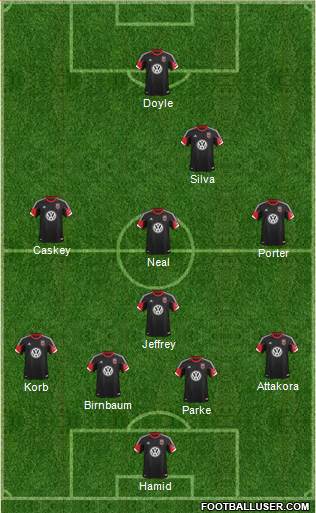 The hope here is keep a clean sheet or be down only a goal, and be able to bring players like Espindola, Johson, Rolfe or DeLeon to smash and grab a point in a game where, on paper, it seems highly unlikely. Having done that as well as promoting team work for the guys that will be playing in the Open Cup, all goals have been achieved as well as some peripheral ones, and Olsen looks like a genius.
Of course the best laid plans of mice and men, and all that, but that's not what this post is about. This post is about an ideal world where every move made is a masterstroke and life is full of puppies and kittens and we're all home by noon on a Monday. So yeah, that - enjoy!